Feldenkrais® can broaden awareness, spark the imagination and help an individual gain a clearer self-image, leading to a feeling of wellness physically, emotionally and mentally.
Click here to find out more...


Revive your inherent knowledge of movement to Inspire a new generation of healthy beautiful dancers! Workshops, articles,
guest teaching
and more!
Click here...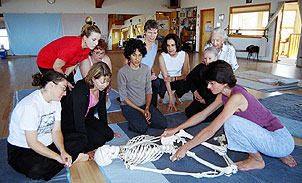 Photo by Lenny Foster




Check out our current workshops! Click here for details...



"Very, very, very enlightening and clarifying ... my thinking was stimulated and I came away with a much better sense of functional anatomy, i.e. how the body is built to move and how certain misunderstandings of how the body works can lead to the training of a dancer that will be injured, frustrated or never fully expressive. Understanding how the bones are so beautifully put together gives me a greater understanding of how my thinking and misconceptions were affecting my movement. Being able to visualize how the spine can twist, turn, flex, and spiral helps me organize my thinking and therefore my movements more clearly. THANKS!" - Alice Brydges, CA
Click here for more testimonials...




Prisca Winslow
PO Box 2714
Taos, New Mexico 87571
phone 575.779.7169
email info@moveintobalance.com