Feldenkrais® can broaden awareness, spark the imagination and help an individual gain a clearer self-image, leading to a feeling of wellness physically, emotionally and mentally.
Click here to find out more...


Revive your inherent knowledge of movement to Inspire a new generation of healthy beautiful dancers! Workshops, articles,
guest teaching
and more!
Click here...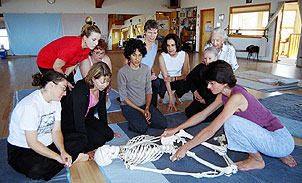 Photo by Lenny Foster




Check out our current workshops! Click here for details...



"Prisca is one of the most inspiring dynamic practitioners. She was first my student, now my colleague. I am proud to be a witness to her evergrowing competence, her unequivocal and passionate commitment in presenting the Feldenkrais Method. Her practice and understanding of our method seem to me of the highest quality, maintaining the wide scope of our thinking and acting in relating to people, yet applying the specifics of our competence with and within movement. Not many practitioners manage this delicate sometimes elusive balance." - Yvan Joly, Montreal, Canada
Click here for more testimonials...




Prisca Winslow
PO Box 2714
Taos, New Mexico 87571
phone 575.779.7169
email info@moveintobalance.com