Feldenkrais® can broaden awareness, spark the imagination and help an individual gain a clearer self-image, leading to a feeling of wellness physically, emotionally and mentally.
Click here to find out more...


Revive your inherent knowledge of movement to Inspire a new generation of healthy beautiful dancers! Workshops, articles,
guest teaching
and more!
Click here...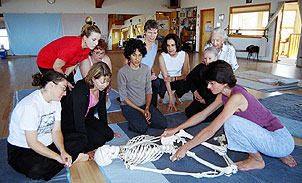 Photo by Lenny Foster




Check out our current workshops! Click here for details...



"Prisca has considered in depth the application of the Feldenkrais Method for dancers. I appreciate her clarity in presenting challenging ATM's, and in bringing to light the difficulties that dancers face. In her workshop I found new inspiration for working with performing artists." - Bethany Cobb, CO
Click here for more testimonials...




Prisca Winslow
PO Box 2714
Taos, New Mexico 87571
phone 575.779.7169
email info@moveintobalance.com